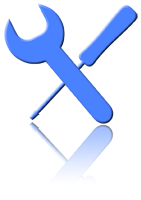 We also work hard on helping the developer community. We provide open source tools that will hopefully help other people create great software.
Often produced after some personal needs, they are available as open source projects. Same way we make use of the community's resources, we want to share our own too.
The projects are hosted on GitHub, you can access them by visiting http://github.com/negusoft.
HoloAccent
HoloAccent is an Android library project to customize the Holo theme with a custom accent color.
It currently supports Android 4.0+ projects (minSdkVersion="14"). These are the main features:
Change the accent color in one place and apply it everywhere
All the UI components from "Holo Colors Generator" supported
Themes with different accent colors within the same app
Full focused state support (navigate with hardware keys)
Colored button styles
Overscroll glow color customization
Dialog customization with divider color correctly set
Switch and SwitchPreference implementation
Full right-to-left locale support
Themes can be extended to meet your needs
Single Instance
Single Instance is a Java library to control the creation of instances across the local system. This means we can check if there is already an instance of certain program running at the moment. It is also possible to implement actions to be performed when attempting to create a new instance if there was already one active.
A socket based mechanism is used to establish the instances. You can select the port number on which you want to work and a listening socket will take it. Like this, the new instance will fail to listen on that port number, meaning that there is another one running. Since it is a socket based system, it allows passing data between the current instance and the one attempting to establish. This can be useful, for example, to pass a file url to a program that will be opened in the currently running instance, if there is one.